Cruden Bay Folk Club
Kilmarnock Arms Hotel
Last Friday, Every Month
From 9:00 pm
When you think about it, we've done a lot to be proud of.
Carlsberg don't run Folk Clubs, but if they did it would be based in the Dining Room of the
Kilmarnock Arms Hotel in Cruden Bay
, and would '
probably
' be the best wee folk club in the world.
But as it happens our amazing little Folk Club meets on the last Friday of every month from 9:00 pm, till around midnight and it's not a bad idea to have a meal at the hotel before hand, that way you can be sure of a seat when things busy up later on, to reserve a table just call the hotel on 01779 812213.
The format of the evening is kinda played out in two halves, the first half will be slightly more structured with performers invited to play to the audience, during this section a PA system is available. There will then be a short break during which time there will be a wee raffle to raise funds, prize donations are always very much appreciated.
Obviously it's difficult to know in advance how many players might turn up for a slot in the open mike session, on busy nights we keep the mikes open into the second half of the evening to ensure that every one who wants to, can perform their piece, then finish things off with a session when everyone can get involved.
Although called Cruden Bay Folk Club, we welcome a much broader range of musical genres with an anything goes attitude to what performers can choose to play.
So if you can make it to Cruden Bay on the last Friday of the month you'll be made most welcome at Cruden Bay Folk Club, so get the date of our next meeting in your diary and we'll see you there.
Friday 25th January – Regular Club Night
Friday 22nd February – Irregular Club Night
Friday 29th March – Regular Club Night
Friday 26th April – Regular Club Night 
Friday 31st May – Regular Club Night
Friday 28th June – Regular Club Night
Friday 26th July – Regular Club Night
 Friday 30th August – Regular Club Night
Saturday 31st August – Singing and Guitar Workshops
Saturday 31st August – Iona Fyfe Concert
Friday 27th September – Regular Club Night
Friday 25th October – Regular Club Night
Friday 29thNovember – Regular Club Night
Friday 27th December – Regular Club Night
Iona Fyfe Day
Singing and Guitar Workshops
Saturday 31st August
Cruden Bay Village Hall
 from 10:30 am
£3 at the door, (free to ticket holders for evening concert)
To be followed by a concert in the village hall in the evening commencing at 7:30
See seperate posters for information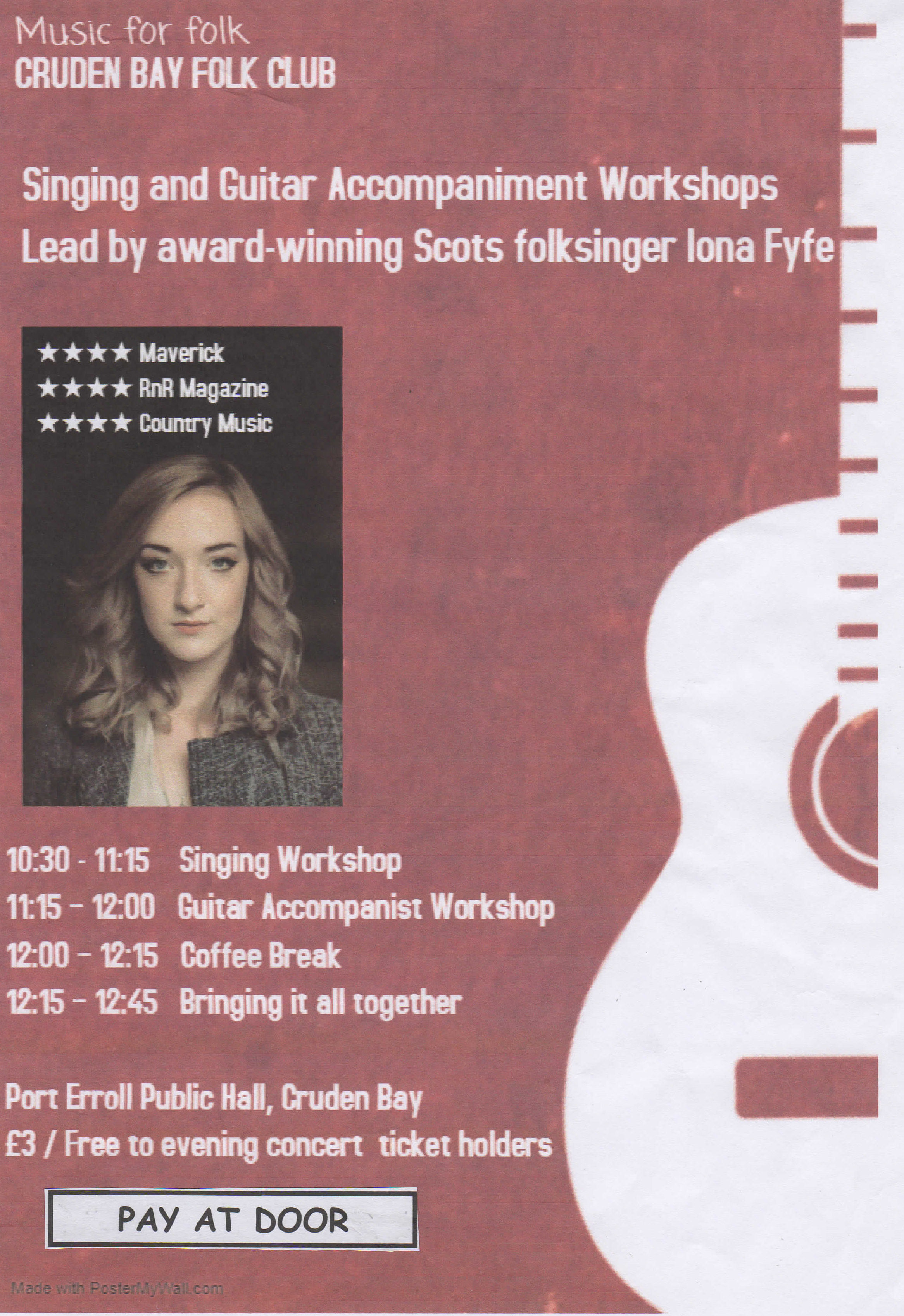 If you are a folk fan, this is an evening you will not want to miss.
Aberdeenshire folksinger, Iona Fyfe, has become one of Scotland's finest young ballad singers, rooted deeply in the singing traditions of the North East of Scotland. Winner of Scots Singer of the Year at the MG ALBA Scots Trad Music Awards 2018, Iona has been described as "one of the best Scotland has to offer." (Global-Music.de)
With a number of high profile appearances under her belt, Iona, a mere 21 years of age, has toured throughout the UK, Poland, France, Germany, Austria, Italy, Switzerland, Czech Republic, Canada and Australia. Iona has performed with the BBC Scottish Symphony Orchestra as part of the World Premiere of Disney Pixar's Brave in Concert at Glasgow Royal Concert Hall.
Released in 2019, Dark Turn of Mind is Iona's first EP entirely in English and features six ballads and songs found in both Appalachia and Aberdeenshire and has been described as "a new interpretation to the country genre"
Tickets available from various locations around Cruden Bay including;
Cruden Bay Post Office
Mandy's Art Shop (The Kelpie Studio)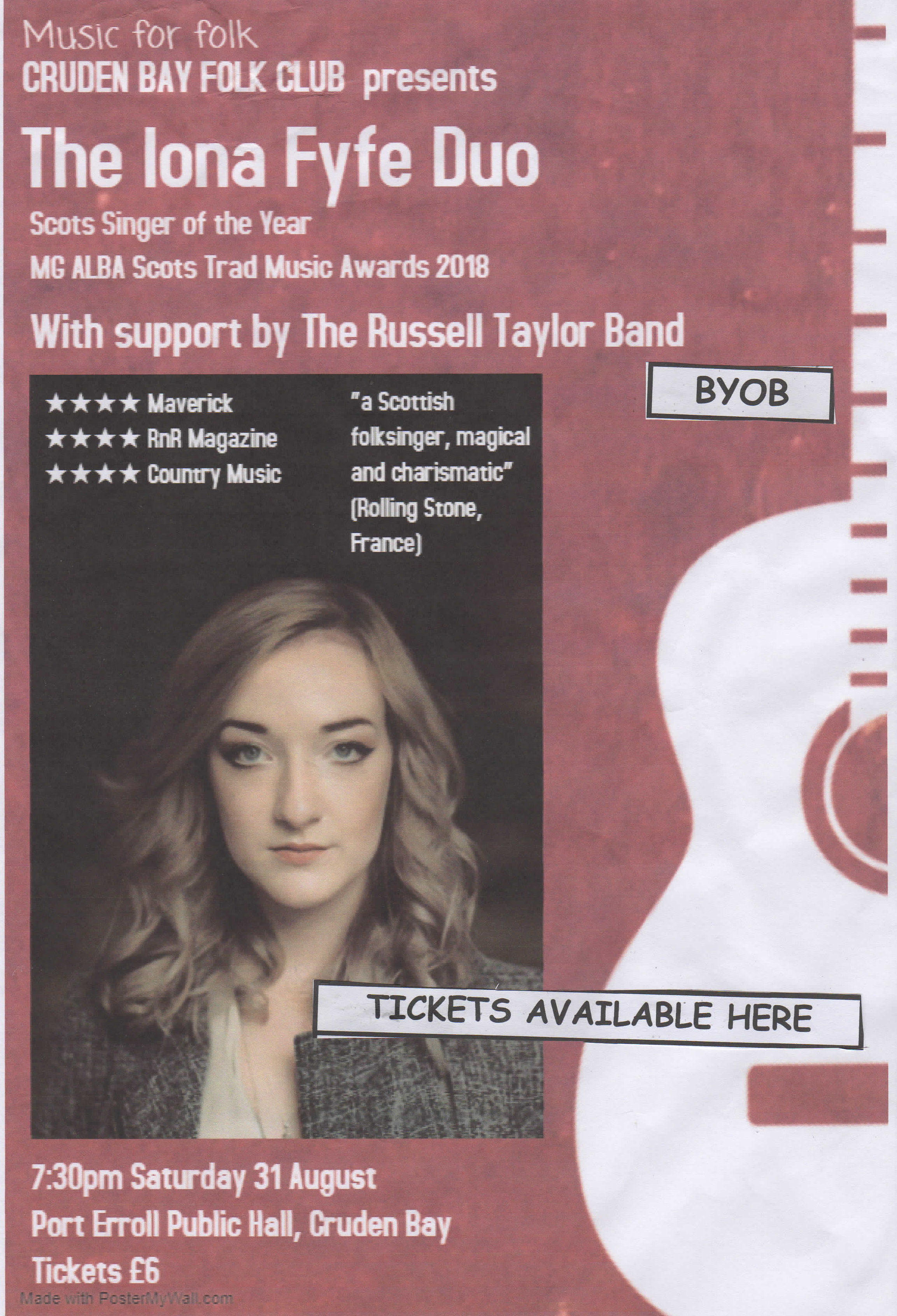 This little video trailer was made following one of our first club nights in 2012, back then the club was meeting in the Lounge Bar of the Kilmarnock Arms Hotel.
More recently our club nights have been held in the dining room of the Killie, a warm and welcoming space which is ideal for our regulars and visitors. The club has met regularly since 2012 and over the years we've captured some great moments on video which you can check out by visiting our video archive page, just click here.
Folk Club Workshops
Our workshops run throughout the year and including popular drumming and singing events. They are generally held in the village or at St.James' church, and are always well attended.
Keep an eye on this page or on our facebook page for the confirmed dates of future events, our next drumming workshop will be in February, dates to follow soon. Here are a few links to previously held workshops so you can get a better feel for what it's all about.
African Harmony Singing with Bruno from Zimbabwe
Drumming and Percussion Circle
If you don't want to miss out on any of our Club Announcements, all you have to do is join the distribution list further up this page.